Today we had a church picnic by the Tata lake, a beautiful area in North-West Hungary. A small group of us gathered from four cities (Ács, Budapest, Győr and Pécs) to enjoy a time of worship, a devotional message, food, fellowship and a little sightseeing and badminton 🙂 We were blessed with great weather and thankful for the opportunity to sit and enjoy the company of one another.
Our small groups of believers are beginning to grow and we are meeting more and more people and sharing the Gospel with them. Please pray with us and for us as we desire to see more come to Christ!
We wanted to update you all as we moved to Pécs a month ago and several of you have asked how we are doing. Thanks, we are all well!
We have moved into a small but comfortable apartment just outside the city centre, in a quiet part of this large city. Everything we need is nearby, supermarkets, gym, pharmacies, doctor's office, post office, bakeries etc.
The move went well, although the weather was extremely hot and we had a busy couple of weeks cleaning, packing, moving our belongings, putting furniture together etc. Soon after the move, myself and Katica, along with her boyfriend, went to Ireland for a week. Whilst there I had a good opportunity to speak at Mallow Street Gospel Hall in Limerick.
After arriving back to Hungary, I preached in Győr. It was great to see a number of friends and church members.
To answer some of your questions: no, we haven't started a church yet. We are praying to meet people of peace and to begin discipleship with anyone interested in knowing God. No, we are not in any orphanages yet, however we are making significant steps towards this!!! And yes, I will continue to travel. The end of August I will be in Budapest and Győr. Early September I will travel to Ukraine to visit our team there. Then in October, I will spend 11 days (God willing) in America on partnership building with speaking engagements in six churches. Finally, in late October Kathy and I will be in Spain for Impact Europe board meetings and Set Free meetings.
Please find a few photos of the area around and near our new home. By the way, we would love for you to visit and have a coffee with us 🙂
This past week we had camp at the orphanage in Győr where we serve. It was a wonderful week filled with music, laughter and lots of joyful noise! Our team of volunteers met every morning at 0845 for prayer and devotional time before starting the camp at 0900. The program went through to midday with Bible messages, English language lessons, songs, handcrafts and relaxed playtime. In total we connected with about 20 younger kids on a daily basis and good conversations with some of the older kids and social workers also. We are not allowed to post photos of the kids who live in the orphanage that is why you will not see them in these photos.
We had a fun pizza parry on Thursday afternoon when our team came into the orphanage for a couple of hours in the afternoon. The kids really enjoyed the pizza as it was a big treat for them.
Here is our wonderful team! Than you Péter (with his two kids), Sylvia, Zsuzsi, Kathy, Bianka, Klaudia and Áron! I'm the only non-Hungarian national!
Honestly, it was a tough week for Kathy and I as we are in the process of moving to Pécs. Our home is filled with boxes and bags and our hearts are filled with so many different emotions. (I'm grateful to our daughter Katica for doing so much at home this week while we served). We have served these kids for many many years and love them very much. Please pray for Sylvia as she takes over visiting weekly from Kathy. Kathy and I are planning on being in Győr for one long weekend a month and will visit the kids then.
It was a joy to have a short visit to see Philip More and our ministry partners in Arad, 🇷🇴 Romania. I travelled down Monday by train and return to Hungary today (Wednesday). Philip is connecting in more and more with the Set Free Movement ministry and here he is sporting a rather stylish Set Free t-shirt 🙂
At Vis de Copil, Philip and his small team feed families that are incredibly poor, the homeless and those with addictions. They also offer a place for them to shower, wash clothes and advice on various matters. The kids (some who are homeless, others who are forced by their parents to beg) particularly have a safe place to hang out at and a warm meal.
A warm meal is provided everyday for anywhere between 30 – 150 people.
Would you like to know more? Would you like to partner and support this incredible ministry? Contact me for more details or give online at achildsdream.co.uk
If you feel led to support the development of the church in Romania, please give here: give.fmcusa.org
We are moving! God has been speaking to us for sometime now and after much time of prayer and fasting, we are moving to Pécs, a large city (slightly larger population than Győr) in the south of Hungary. This has not been an easy or a quick decision. We took plenty of time to hear Him speak to us and although we go with a certain amount of trepidation, we believe we go with the blessing of God.
The ministry in Győr goes well. Sylvia is doing a very good job of pastoring the flock. She teaches on Sundays, reaches out to people during the week and will continue the orphanage ministry from September, Sarah will continue to lead comfort zone and MOPS and Melinda continues to lead our transformation group. Kathy and I are committing to one long weekend a month in Győr to continue the Bible study group and to help in other ways. Ministry continues as before but others lead.
In Pécs we are planning to help Szandra with the further development of a Set Free Movement team (to fight human trafficking), and we hope the Lord will bless us with new partnerships so that we can help establish another community of faith similar to that in Győr.
Pécs has a very large community of foreign students who come to study medicine and dentistry and I will try to connect with them in much the same way as we have done in Győr.
We very much appreciate your prayers as we move into a time of new ministry! We continue to be committed to our ongoing ministry in Budapest, Győr and Veszprém and look forward to how the Lord leads in the days, weeks, months and years ahead!
11 For I know the plans I have for you," declares the Lord, "plans to prosper you and not to harm you, plans to give you hope and a future. Jeremiah 29:11
Today we were blessed to gather together and celebrate the baptism of one of our church members (Orsi). Zsuzsi brought an excellent message to the congregation on Acts 3:1-10 and the transformative power of the Holy Spirit in Peter over Pentecost. Orsi has experienced the transformative power of God and is a shining example of the love of Christ. Today was the first time Pastor Sylvia baptised someone and is was wonderful to serve together.
After the service, a few of us got together to plan our camp at the orphanage. We will be serving the kids for a week long vacation Bible school (Covid-19 restrictions allowing). Your prayers, as always, are appreciated!
This morning we were blessed to travel to the city of Veszprém about an hour and a half south of Győr. We are at the beginning of a new ministry with foreign students in Veszprém. Several students from Africa desire a worship service in English and we will be holding one every month. We are beginning a partnership with a local church in Veszprém (Evangéliumi Keresztény Gyülekezet – Evangelical Christian Fellowship). The students are being encouraged to join in worship every Sunday, so they can be in fellowship and strengthened in their faith. The local church were very kind and welcoming to them and will allow us to use their space for the monthly English language worship services for the foreign students.
After worship, Elizabeth, Kathy, Keresa, Shadrach and myself enjoyed a great meal and discussion. Coming from Ethiopia and Kenya they are enjoying discovering life in Hungary and Europe but have been missing worship. They have vision for a church that will reach the foreign students and also reach people across Veszprém. Please pray for them and the hope of what could be!
In the afternoon, myself and Kathy were back in Győr for worship. Bianka and Sarah led worship wonderfully and the Sylvia preached a great message with assistance from Aron and Klaudia. Next week we look forward to baptizing Orsi. Please pray for her this week as she prepares.
The Lord continues to bless this ministry. With work in Budapest, Győr, Pécs and now Veszprém in Hungary (along with a new possibility in Szeged) we are thankful to Him for His faithfulness. Please pray for us that we would have wisdom and strength to do all that we can to fulfill our small role.
After a very long break without in person services, we met again today in both Budapest and Győr for worship. In the photos, Péter can be seen leading worship in the garden of our church in Budapest and Sylvia and Melinda can be seen in the courtyard of the Lutheran Church in Győr.
Hungary having been on lock down since February, has had a very difficult time with Covid-19. In March cases surged and deaths hit terribly high numbers. At one stage Hungary had the highest rate of deaths per capita from Covid-19 in the world. Now we are very thankful as we see the number of new cases drop daily along with the number of deaths. Over 40% of the population have been vaccinated and we are seeing restrictions lifted.
In Győr I (Gerry), was honoured to bless baby Boglárka, the daughter of Laci and Melinda. She was asleep for the blessing and I didn't want to wake her so myself and the entire church (kids included) prayed a blessing over her. She is a sweet, beautiful baby girl! Please pray for her and her parents as they grow more and more in their love of God and one another.
Today we were blessed to bring a total of 21 gifts packages to the kids at the local orphanage. Packed with chocolate, shower gel, face cloths, tooth brushes, pencils, colouring materials and other small gifts, these will be a blessing to these kids who are all in full and very strict lockdown. We also brought the staff gifts of daily devotional material. We did get to wave to the kids and speak at a distance for a minute or two. We trust that these small gifts will show the love of Christ to all.
Kathy and myself delivered the gifts and our colleague Sarah Anderson had helped us gather the gifts. Our daughter Zsuzsi helped with gathering together Christian material to keep the kids entertained.
Many of the children and staff have been very unwell with Covid-19. They have all had a very hard time since November 10th when Hungary entered this current lockdown. The kids cannot leave the building and I can only imagine how bored the kids must be and how overwhelmed they and the staff must feel.
As a nation, Hungary is having a very tough time. A week ago we had the highest rate of covid related deaths per capita in the whole world. Our health care professionals are working very hard in incredibly difficult circumstances. Some medical staff are working 80 hours a week. We are grateful that the vaccination program is moving quickly with over 20% of the population having had at least one vaccination jab so far. Please pray for Hungary!
Update from the Rivne Mission Team • March 20, 2021
Dear Friends,Peace be with you!We want to share with you our lives, news, needs and how God works through our circumstances.We're living in very challenging times but God keeps leading and providing and it makes us moving forward. Our church decided to help with another minisrty which is the House of Mercy for the elderly. We were looking for a house for more than six months, but then we experienced a miracle of blessing. A neighbor gave us her house for use for 3.5 years. And so, starting in the Fall, we started preparing the home. The guys from the rehabilitation center were actively working on the remodeling project which was a great ministry of them. The house is located within walking distance of our rehabilitation center . No one had lived in the house for several years, so the roof was leaking, the stove was smoking, there was no toilet and shower, as well as water in the house, there was not enough electricity to use the stove etc. The beginning of the remodeling process occured during our first serious wave of coronavirus and our guys got sick. Our repairs were delayed. But with God's help, the renovation is completed. From a crumbling house with a leaking roof, God miraculously made it possible to make a neat little house, in which it is pleasant to live with a wonderful kitchen and clean water from a well.We had planned to open the doors for the first people, but the second wave of coronavirus overtook us and the entire rehabilitation center got sick and our family also became sick. Therefore, we postponed the opening for some time when everyone will be well.

For us, such a house will be a new experience of ministry. We need your prayers for it to build up the church and bring it closer together, and so that we can give these people what they need and help them return to a fulfilling lifestyle.
Also in February we rented a second half-way house for the men who, after rehabilitation, remain in Rivne and get a job. We have two single fathers with sons. One boy is 13 years old and another is 4 years old. The Lord gave mercy and the 13 years old boy is assigned and also we were able to place Sasha, 3 y.o. boy, the son of Vitalik Karpenko, in a Christian kindergarten. He also brings up the child himself, since the child's mother died of drug addiction. Pray for these boys and that God would give wisdom in how to help in such situations.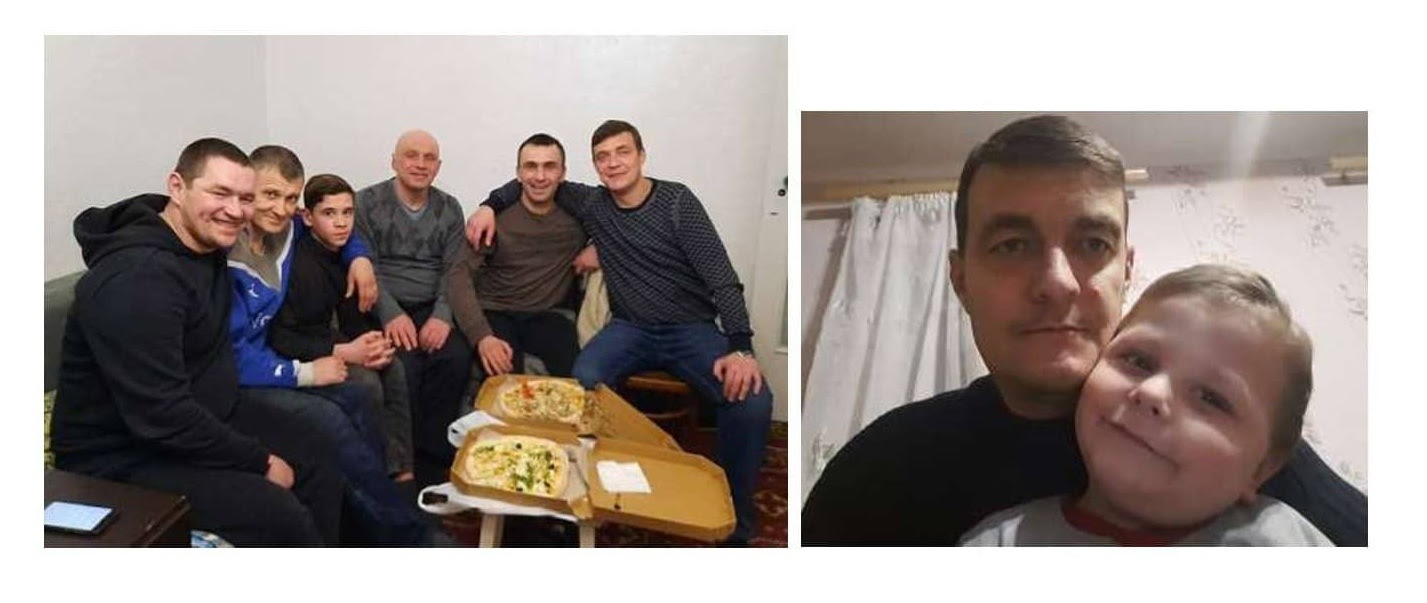 In addition, couple guys from a half-way appartment are starting a new ministry in Rivne in the methadone center, where drug addicts who are on the state program apply. We already have permission to come and testify to the men there that God can free them from their addiction. We are glad that new-believers are burning to serve to such people. It is a big step in their faith.We also make a tent and want to stand with it on the streets of the city and communicate with those people who need help. Other men from half-way program are willing to help in this ministry and it will be a good opportunity for them to testify about what Christ has done for them.Pray with us for:Opening of the House of Mercy and those people who will be thereHealth, God's protection and our ministries during the pandemicThe spiritual growth, work and service of the men in the half-way houseThe two children of the men from our rehab centerMinistry in the methadone center and outdoor tentNew people who come to churchThank you for your friendship and prayers, support and encouragement! We won't be able to continue God's work without God's support through you all, our dear Friends! May mercy, peace and protection from God be with us all.With appreciation,Misha & Lena PetrochenkoValera & Natasha Pedchenko To contact us:Misha & Lena Petrochenkolena_petrochenko@hotmail.commishapetrochenko86@gmail.com
Klaudia, one of our church members wrote this beautiful poem. It was part of our worship today. Pastor Wick helped her put it into English. Enjoy!
Today we were honoured and blessed to install Sylvia as pastor of the Győr church! For the past year Wick Anderson has pastored this community of believers and he has been working with Sylvia as a mentor to prepare her for this day. Sylvia still has a long way to go to ordination but this is a big step for her and the local church. A lot of people turned up to worship (about 30) and to support Sylvia. I think we were near our maximum room space to keep social distancing!
Our local church is blessed with a number of great leaders, and people from a number of very different backgrounds. At worship today we had people from America, Ethopia, Hungary, Ireland and Pakistan. Our community also consists of people from numerous other countries including England, India and Nigeria. Sylvia will have plenty of opportunities to share the Gospel with many people and to care for those in the church. Please pray for Sylvia as she takes on this ministry role.