Update from the Rivne Mission Team • March 20, 2021
Dear Friends,Peace be with you!We want to share with you our lives, news, needs and how God works through our circumstances.We're living in very challenging times but God keeps leading and providing and it makes us moving forward. Our church decided to help with another minisrty which is the House of Mercy for the elderly. We were looking for a house for more than six months, but then we experienced a miracle of blessing. A neighbor gave us her house for use for 3.5 years. And so, starting in the Fall, we started preparing the home. The guys from the rehabilitation center were actively working on the remodeling project which was a great ministry of them. The house is located within walking distance of our rehabilitation center . No one had lived in the house for several years, so the roof was leaking, the stove was smoking, there was no toilet and shower, as well as water in the house, there was not enough electricity to use the stove etc. The beginning of the remodeling process occured during our first serious wave of coronavirus and our guys got sick. Our repairs were delayed. But with God's help, the renovation is completed. From a crumbling house with a leaking roof, God miraculously made it possible to make a neat little house, in which it is pleasant to live with a wonderful kitchen and clean water from a well.We had planned to open the doors for the first people, but the second wave of coronavirus overtook us and the entire rehabilitation center got sick and our family also became sick. Therefore, we postponed the opening for some time when everyone will be well.

For us, such a house will be a new experience of ministry. We need your prayers for it to build up the church and bring it closer together, and so that we can give these people what they need and help them return to a fulfilling lifestyle.
Also in February we rented a second half-way house for the men who, after rehabilitation, remain in Rivne and get a job. We have two single fathers with sons. One boy is 13 years old and another is 4 years old. The Lord gave mercy and the 13 years old boy is assigned and also we were able to place Sasha, 3 y.o. boy, the son of Vitalik Karpenko, in a Christian kindergarten. He also brings up the child himself, since the child's mother died of drug addiction. Pray for these boys and that God would give wisdom in how to help in such situations.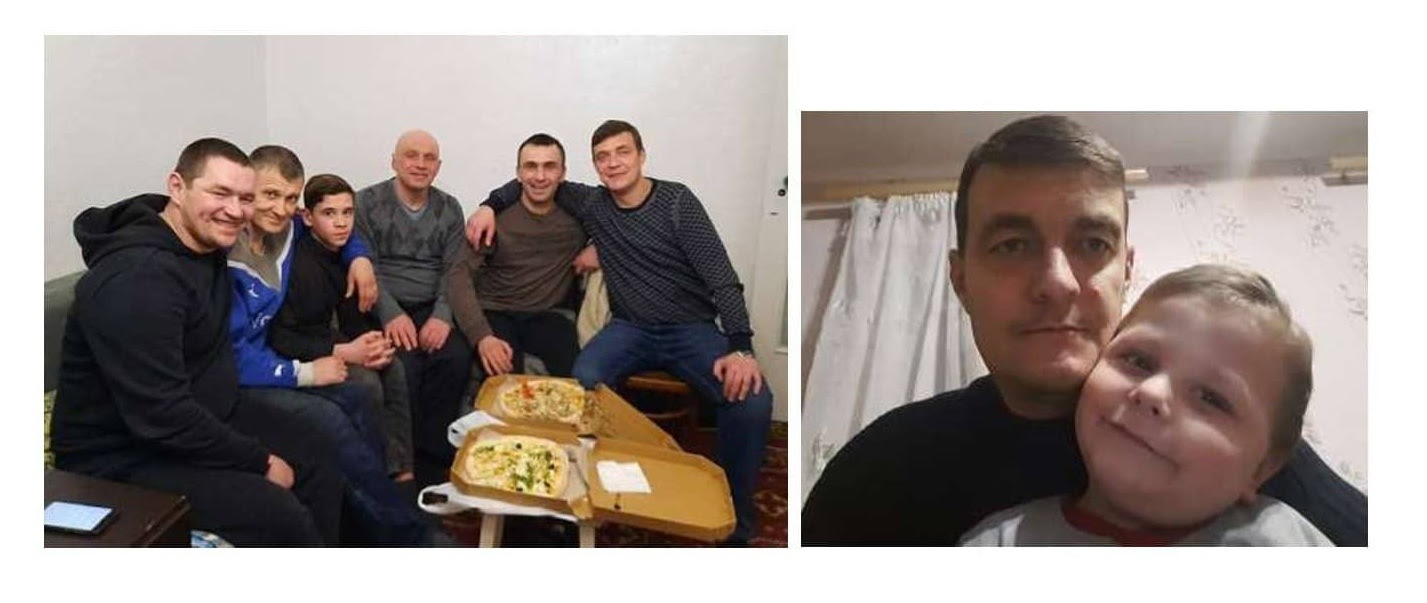 In addition, couple guys from a half-way appartment are starting a new ministry in Rivne in the methadone center, where drug addicts who are on the state program apply. We already have permission to come and testify to the men there that God can free them from their addiction. We are glad that new-believers are burning to serve to such people. It is a big step in their faith.We also make a tent and want to stand with it on the streets of the city and communicate with those people who need help. Other men from half-way program are willing to help in this ministry and it will be a good opportunity for them to testify about what Christ has done for them.Pray with us for:Opening of the House of Mercy and those people who will be thereHealth, God's protection and our ministries during the pandemicThe spiritual growth, work and service of the men in the half-way houseThe two children of the men from our rehab centerMinistry in the methadone center and outdoor tentNew people who come to churchThank you for your friendship and prayers, support and encouragement! We won't be able to continue God's work without God's support through you all, our dear Friends! May mercy, peace and protection from God be with us all.With appreciation,Misha & Lena PetrochenkoValera & Natasha Pedchenko To contact us:Misha & Lena Petrochenkolena_petrochenko@hotmail.commishapetrochenko86@gmail.com
Klaudia, one of our church members wrote this beautiful poem. It was part of our worship today. Pastor Wick helped her put it into English. Enjoy!
Today we were honoured and blessed to install Sylvia as pastor of the Győr church! For the past year Wick Anderson has pastored this community of believers and he has been working with Sylvia as a mentor to prepare her for this day. Sylvia still has a long way to go to ordination but this is a big step for her and the local church. A lot of people turned up to worship (about 30) and to support Sylvia. I think we were near our maximum room space to keep social distancing!
Our local church is blessed with a number of great leaders, and people from a number of very different backgrounds. At worship today we had people from America, Ethopia, Hungary, Ireland and Pakistan. Our community also consists of people from numerous other countries including England, India and Nigeria. Sylvia will have plenty of opportunities to share the Gospel with many people and to care for those in the church. Please pray for Sylvia as she takes on this ministry role.
Since November we have not met in person for worship, today was our first time. Unexpectedly I was asked to preach as one of our pastors was ill. Click on the link below to hear the sermon in full. Feel free to 'like' the Facebook page where the sermon is, that is the page for our church group in Győr.
This is a letter that Zsuzsi wrote today to inform supporters of our new ministry growth. Celebrate with us!
Dear Friends!
I would like to share some exciting news with you! The Lord is expanding His ministry in Hungary through the Set Free Movement. This week we had a new member join the movement which means we have a Set Free team forming in Pécs! The group will be led by Szandra who is already doing so much to fight injustice. She has organised the Walk for Freedom for several years in Pécs to raise awareness to the issue of human trafficking. She is also involved in preventive work in schools and children's homes This is our third Set Free group now in Hungary (besides Győr and Budapest) and we also have ministry in a women's prison in the Dunaújváros area (see the map below). Thank you all for your faithfulness in praying for our ministry.  Please pray for Szandra as she seeks God's guidance in her ministry. 
If you would like to know more about human traffikcing and the ministry in Hungary you might be interested in purchasing the following prayer guide. 15 Days of Prayer Guide to End Exploitation 2021 is now available! It includes 15 different stories from around the world to help you better understand the issue of human trafficking and each day has a number of prayer points to help guide you in intercession. My article is one of the 15 which will help you pray against injustice. PDF's and physical copies are both available.
https://kairostraders.com/…/shop-all/products/prayer-guide
Blessings,
Zsuzsi
Today we continued our series of prayer walks by taking a trip to Pécs in the south of Hungary. We are prayerfully trying to be strategic in finding where God would have ministry expanded in Hungary. Currently we have ministry ongoing in Budapest and Győr and desire to add a third location. We will stay here through Monday when we will have a ministry related meeting.
It is also a huge bonus that we get to see our youngest daughter who is a University student in Pécs.
Your prayers are appreciated as we see on the Lord and His will for the expansion of His Kingdom.
Today we had the blessing of going to the orphanage to sing Christmas songs with the kids. A total of 13 people from our church group turned up and along with about 20 of the kids from the orphanage, we made a joyful noise to the Lord! We sang songs in both English and Hungarian. We maintained a social distance as we sang and wore masks, but it was wonderful to see the kids again!
All the kids and staff at the orphanage were given small Christmas gifts as a sign of our love for them. Thank you for your support, it allowed us to buy these gifts.
Religion that is pure and undefiled before God the Father is this: to visit orphans and widows in their affliction, and to keep oneself unstained from the world. (James 1:27, ESV)
Today myself, Kathy and our colleague Wick Anderson, went on a prayer walk in the city of Tatabánya. Over the past few months we have done strategic prayer walks in Western Hungary as we seek people of peace. We spend time on prayer for each city and the people who live there and in reading scripture.
Obviously, with the current strict restrictions in place (due to Covid-19) we couldn't enter buildings but we were able to pray (while wearing masks) on the high street, near schools, libraries, the mayor's office and the main shopping centre. We also went to a look-out over the city (with the turul bird) and prayed over the city.
Please pray we would connect with people of peace. Also, please pray for Hungary. The situation here is very bad and many people are daily infected with Covid-19 and our health care system is struggling to care for all who need help.
Szociopoly is a game created by sociologists to help the poor and uneducated understand budgeting and the responsibility of family finances. Our daughter Zsuzsi, in her position as Set Free Movement coordinator for Hungary, goes from place to place teaching this game.
Today we accompanied Zsuzsi to a Christian safe home for women and their children in the Budapest area. Zsuzsi did an excellent job teaching some mothers and their children the game. It also allowed for a wonderful conversation on the importance of education, hardwork and honesty.
After a fun and informative time of playing the game, we prayed together as a group and Zsuzsi led a great discussion. Zsuzsi will be going back again in a month for a Christmas celebration. Please pray for her, for wisdom and courage as she fights on the behalf of the downtrodden of Hungary.
August was a busy month for us in ministry. We had several trips to Budapest to visit our church there. In the photo above, our colleagues Larry and Katie received flowers and a gift from the Budapest church commemorating their 20 years of service in Hungary.
We also welcomed colleagues from Spain who came to shoot video for some upcoming videos we will be releasing. More details in the future! Whilst here, Peter and Sarah took some wonderful photos of beauty and the beast 🙂
Kathy and Zsuzsi were also able to visit the orphanage in Győr, where the were able to teach the older kids a game which teaches them skills for life. Sociopoly is used for teaching 'at risk' teens how to handle money and make ethical decisions. Zsuzsi, being a qualified social educator and Kathy being a qualified teacher make a great team for working with teens in this important area. We very much believe that prevention is better than cure and knowing Christ along with a good education is key to helping these kids stay safe from traffickers. Zsuzsi will also be taking this into a safe house in Győr soon (for mothers and their kids). Please pray for her!
I also managed to make a couple of new contacts in August. Please pray with me as I seek open doors in Slovakia. We desire to see God's kingdom spread throughout Europe!
Over the past few weeks we have been going on strategic prayer walks in western Hungary. We visited the cities of Komárom, Mosonmagyaróvár, Szekesfehérvár and Veszprém. In each city we prayed for health, peace and prosperity for those who live there. We sought out people of peace to further expand the Kingdom work that in going on across Hungary.
During these walks we have prayed for refugees. Pictured above are friends who are from Iran and currently are refugees. They regularly attend our weekly services. Please pray for them.
Through our Iranian friends, I was able to meet a Reformed church pastor who is passionate about serving the refugee community in Hungary. Pastor Ágoston is doing a wonderful work and I look forward to hopefully partnering together in the future.
Your prayers are appreciated as we continue to serve. We are having a lot of difficulty getting our ministry car to pass its two yearly road worthiness test (the car is now 22 years old). Terrible how something like this can cause so much stress. We are also on the hunt for a new home and again appreciate prayers for wisdom as we make decisions.
We have had a fun week at camp these past five days. We served at the orphanage in Győr and had about 20 kids each day. Each day consisted of a Bible message, songs, handicrafts and games. We told stories based around animals in the Bible (Noah's Ark, the serpent in the garden, Daniel and the lion's den and Christ the good shepherd).
On Friday we went to the Zoo in Győr. We saw lots of animals, had lunch and ice-cream together and enjoyed a great zoo show, where a couple of the kids got involved
Zsuzsi (she serves as the Set Free Movement Coordinator for Hungary) had an excellent conversation with some of the older kids about the danger of trafficking. We hope and pray we will be able to continue these relationships and protect and lead these kids from danger in the future.
Thank you to everyone who helped this week as a volunteer and also thanks to those who provided finances.